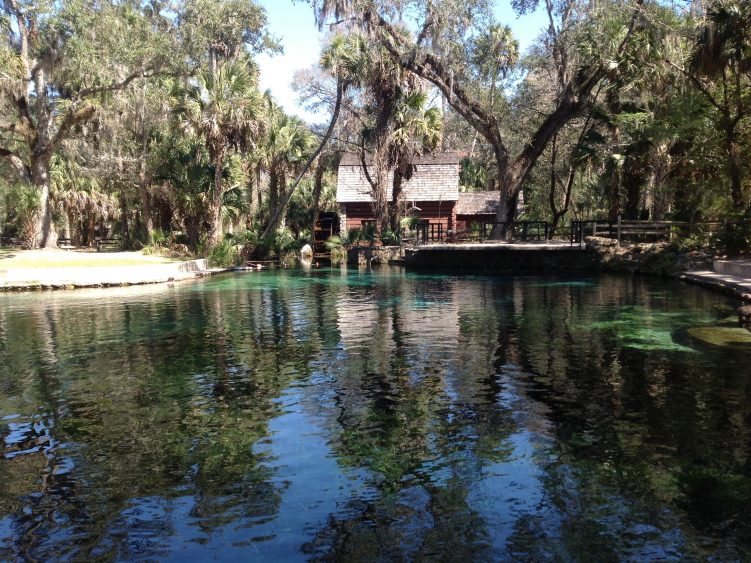 Juniper Springs Adventure!
Mar 06, 2013 by Bonnie
Remember that line from the old TV show, 3-2-1 Contact—"The Tropics are HOT?" Ahhh, not so much.
It was even cold in Miami this week. But after waiting in Ocala for several days for the temps to rise a little, we finally went to Ocala National Forest on Monday to camp at Juniper Springs, where my birth family had camped in March of 1957. I even took pictures from the same vantage points that Dad had used all those years ago. See the Smugmug Van Trek March folder for those.
Monday night was cold, but on Tuesday it warmed up quite a bit, and we took a canoe trip down the 7-mile-long Juniper Creek, which flows out of Juniper Springs. It was quite an adventure! We were told that it is a course for intermediate canoeists; we didn't know if we qualified or not, but decided to give it a try. Well, if we weren't intermediate canoeists at the beginning, we were at the end! The skill during the first half, where the water was slower, was dodging trees both above and below the water line in the shallow stream. In the second half, the challenge was maneuvering the canoe in the faster current, which was only about seven knots, but very twisty.
We were determined to make the run without tipping, but it was not to be. After skillfully avoiding many obstacles, we were undone by a small root that didn't look like much trouble at all, but it hung us up, and we ended up tipping. Fortunately, before we left the camp store, Art had purchased a waterproof sack for our iPad, iPod, car keys, and his credit card case, because almost everything we had brought with us ended up "in the drink." We watched helplessly as all the separate pieces of our lunch (all in plastic boxes, no disposables allowed on the run) floated away, along with our suntan lotion, and water and coffee bottles. When I tried to stand, one of my new sandals, which I loved, got stuck in the sand and I lost it too. I prayed that I would find it, but a search of the stream revealed nothing. We righted the canoe, moved to the bank, and put what was left of our gear onto the bank while we got ourselves back in the canoe. Then we moved on, hoping to find our things downstream. We found one item lodged against a tree near the site of our disaster, and as we went along, noticed several others lodged at the next turn in the creek. We retrieved them, but did not see Art's favorite bubba water bottle. But after going a little farther we saw another cache of items ahead, and one was Art's bubba. As we approached, I was delighted to find that another item there was my missing sandal! Prayers answered! In the end, we retrieved everything but our sandwiches and their container. We saw parts of the sandwiches floating around, but never saw the container. So I guess we broke two rules: 1) Don't get out of your canoe, and 2) Don't feed the wildlife. I can imagine one of the many turtles we saw, munching on my lettuce.
It was not much farther down the stream, as we moved into slightly more open water, that we saw a mama alligator and her brood of 5-10 babies (we didn't stop to count) sunning themselves. I'm really glad we saw the alligators after we had capsized. From then on, we continued to see many watering spots that were surely used by the 'gators, and near the end of the run, we actually saw a 'gator swimming in the creek. Needless to say, we were very glad to reach the end of our four-hour adventure! And we didn't regret one minute of it!
The main spring at Juniper Springs is a lovely pool, with waterwheel built in the 30s by the CCC. There are several trails to follow, and another spring to visit; it is called Fern Hammock Spring, but in the 50s my dad labeled it as The Aquarium. The area is beautiful, and the water is a constant 73º year-round. Swimming is allowed only at the main spring, which is bordered by brick and cement-work, with steps down into the water. We did go in, but didn't stay in long. By the time we finished our canoe trip, it was getting colder again.
The campground was really nice, and it was a luxury to have hot showers. Some national park campgrounds have electrical outlets in the bathrooms, but this one did not, so I didn't get to "uncurl" my hair. It did, however, have private showers, which was a real treat; the water was nice and warm, and the shower room was quite roomy and had a bench and several hooks for clothes and towels. There was one shower for each sex on our loop of 26 campsites. Each site was secluded by tropical vegetation, and also had a fire ring and charcoal grill besides the table. A water spigot was located between every two or three sites. Some of the loops had a dishwashing sink at the bathhouse, but ours did not. There was an amphitheater, which I presume is a meeting place used for ranger programs in the summer.
Budget-wise, Juniper Springs was a real bargain. A day pass for the park costs $5 per person, and camping costs $19. Our Senior Pass discount would have admitted us for the day for $7.50 for both of us, but with the pass the camping is half-price, and includes the day admission, so we got to camp overnight for just a little more than the day-pass rate ($10.26 with tax).