We, Arthur and Bonnie Joyce, began our retirement February 4, 2013 with the agenda that was to be a "no-agenda" plan. Our son, Bryan, encouraged us to simply take a year to refresh ourselves in the Lord and to renew our spirits by drawing closer to Jesus and simply enjoying His creation created especially for His people.
So, that's the "no-agenda" plan. Wherever the wind blows we hope to be there to take in the blessings and wonders of our Lord God and to encourage whoever we can to put their faith and trust in the Lord Jesus Christ to be part of His eternal family.
There are some specifics that we would like to accomplish as we travel across the United States. God has created many amazing and awesome wonders that we would like to see. And there are friends and family that we would like to stop in and say, "Hi!" as we pass through their areas.

We invite you to take the tour of this wonderful country with us. Stop back often and read our blog entries. Our son, David, spent considerable time reworking our website and making it easy for us to update as well as easy for you to navigate and read the various entries. Check the "Travel Map" and note where we've been by the blog entry markers scattered on the map (and accumulating with each new entry). We really are grateful for his assistance. He has done a superb job that is worthy of commendation.
About Our Setup
Our van is a 2008 Chevy Express van. We purchased it used in the Fall of 2012. It had previously been used as a truck for dental supplies. But it had all the qualities that we were looking for in a van: openable windows on a sliding side door and openable windows in the back doors. We specifically did not want the "barn-doors" in the side as the sliding door took up much less space when parked in a tight parking place.
We received much of our inspiration for the van setup from an ebook that we purchased online from vanabode.com. You can purchase the book through Amazon and it's called: "Vanabode: travel and live forever on $20 a day" . The book was written by Jason Odom and You're invited to check out that website because Jason with his wife, and even a pet rabbit, has been traveling this way for many years.
We followed closely the instructions given in the Vanabode book and made a few modifications along the way as we've traveled a year and a half on the first part of our journey. This little article will show and tell you what we did to make our van a "home away from home."
We still own a home in Tennessee. When we're traveling, we simply turn off the water, set the thermostat to about 40 degrees (to keep the house from getting too cold), and shut off the water heater and refrigerator. Our bills are all set to pay automatically from our bank account when they become due. Arrangements are made to keep the grass mowed when that's needed. We also have a light on a timer that will turn on off automatically, so the house won't look like it's deserted.
We began by removing the shelving units that were in the van, with the exception of the black lockable box between the front seats. That box makes a nice place to keep our travel books and important papers file while traveling. Our van had a gate behind the front seats that we also had to remove. But once that was done we began to determine the best height for our bed and how we were going to fit into the van those things we wanted to take with us on our journey. We chose to build a platform bed that would go from side to side, since the van measures six-feet from side to side and that allows us to easily lay stretched out and comfortable. The bed height was determined by the height of the plastic bins that we wanted to keep under the bed. We're able to store six bins in that usable space. It puts us a little closer to the ceiling than the Vanabode ebook suggests, but we can still sit on the edge of the bed and our heads don't touch the roof of the vehicle.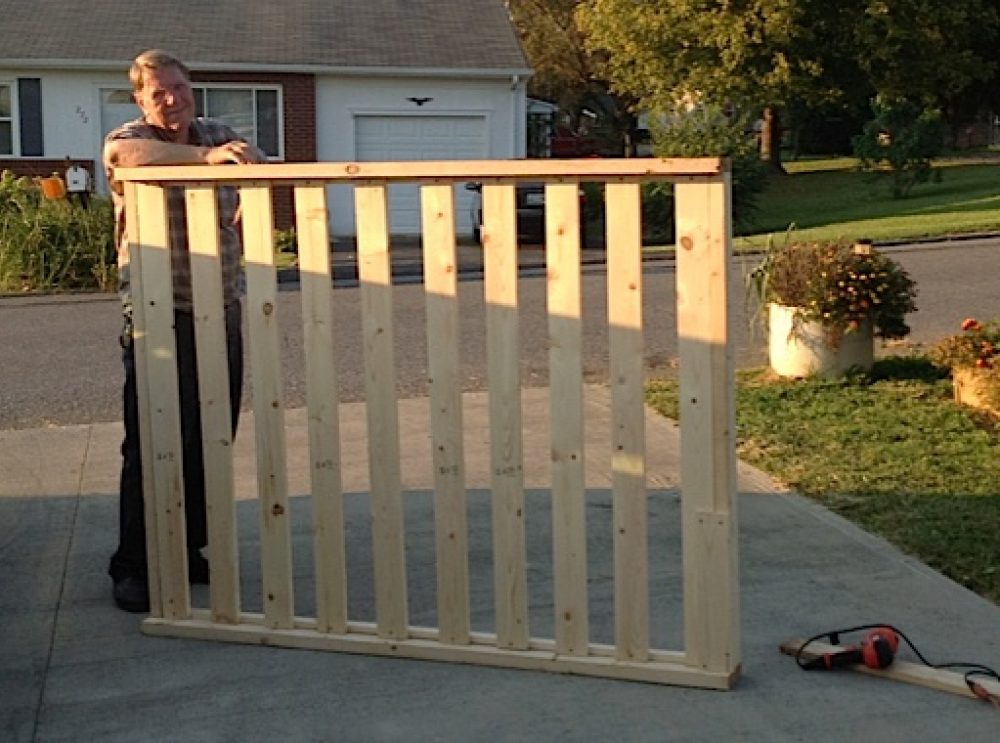 Since our lifestyle doesn't really involve t-shirts, we wanted to have space for hanging clothes rather than keep all of our things in bins. This was accomplished by installing a wire cable between two of the support struts of the van. And a small dresser fit well into a space between our bed and the front seat. It doesn't take that whole space because we use part of it to store a heavy quilt made from a winter weight sleeping bag. When the temperatures drop down to about 50 or below to about 35 degrees, we unroll the quilt and are as snug as bugs in a rug throughout the night. Our van doesn't have heating or cooling when the motor isn't running. But since we try to follow the seasons, we haven't experienced any major problems in sleeping through the nights. But because we're a little older than many who travel this way, we do have a need for nature calls during the night. And for that we have a small port-a-potty that works perfectly well for us. We generally use it just for liquids and try to utilize public restrooms for other more solid times (sorry! I don't mean to be too graphic here).
One happy serendipity that came was that our anti-gravity lawn chairs fit perfectly between the back doors and the bed. It makes it a little more difficult to get at the bins under the bed from the back doors, but it's really not all that difficult. We also don't cook in the van, but we eat about two meals a day (breakfast and supper) in local parks. If it's raining or too cold to do that, we'll get something from the dollar menu at McDonalds or some other place. It's not a huge drain on the budget if you're eating most of your meals that you prepare yourself, rather than buying all your meals at restaurants. Occasionally we like to have a special meal at a restaurant and it doesn't break our budget to do so.
We meet many people along the way who seem to be fascinated with our "life style." They usually will say something like, "Oh, that's what I would like to do!" Some are honest and say, "I like what you're doing, but I don't think I'd like to do it myself. I need a real bed to sleep in and a place where I can actually stand up to get dressed." And we can appreciate their thinking. What we are doing is not for everyone, but for those who want to see the country and all that God has created for us to enjoy, this is one affordable way to do so.
We created a video of our van setup, with the help of our son, David. Take a few minutes and enjoy the video below. At the end, David put in an "out-take" that you'll probably enjoy as well.