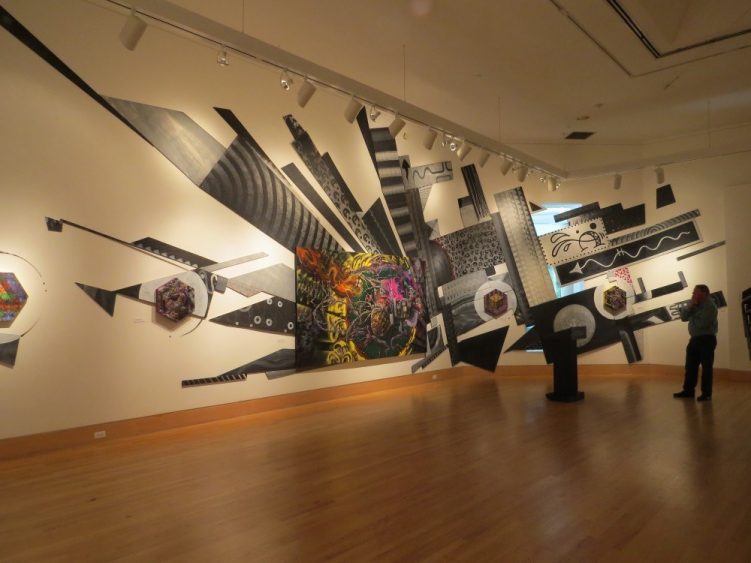 A Romans 8:28 Experience
Oct 11, 2013 by Bonnie
Sometimes things happen that we just don't understand, like the artwork above. We had planned to stay a week in San Jose near Daniel and Dia, and then head on down to Yosemite, Sequoia, and Grand Canyon before the weather got too cool in the mountains to visit those awesome features of nature. When our van was damaged, it necessitated a change in plans, and as it turned out, the accident truly did become a blessing in disguise. Let me enumerate our blessings:
1) We have been able to have a more relaxed time with our "kids" without feeling that we were under a time crunch. Since we have no idea when we'll see them next, this has been a huge blessing.
2) We have had two weeks' free housing at hotels, a welcome luxury after spending the last three months sleeping in our van every night. One hotel had free breakfast, free supper, and an in-room jacuzzi. The second also had free breakfast in their own restaurant (excellent buffet) and an outdoor heated pool and hot tub.
3) We've had a more economical car to drive (a Toyota Sienna mini-van) that can hold all the things we had to remove from the van and still have room for passengers, which our van does not have. We've put a lot of miles on it over the past two weeks!
4) The extra days afforded us time to make a day trip to San Francisco, attend D&D's church three times, do several other day trips and some serious letterboxing, in the process becoming more acquainted with this lovely area of the country.
5) If we had left as planned, we wouldn't have been able to see the national parks anyway, because of the government shutdown. The Lord knew that was going to happen, even though we didn't.
6) We got our van back in better condition than before! When we bought it, the rear bumper had been bent down at a slight angle. We didn't even notice it at first. But now, the back of the van looks brand new!
But what if the other insurance company hadn't paid? What if we had had no place to stay, and no settlement money (our car was not insured for collision)? What if someone had been injured or killed? God's promise in Romans 8:28-31 is still true: "And we know that for those who love God all things work together for good, for those who are called according to his purpose. For those whom he foreknew he also predestined to be conformed to the image of his Son, in order that he might be the firstborn among many brothers. And those whom he predestined he also called, and those whom he called he also justified, and those whom he justified he also glorified. What then shall we say to these things? If God is for us, who can be against us?"
Is that really true? YES! While we have not encountered those types of challenges ourselves, we have been blessed to see the reality of those verses lived out in many of our friends and relatives. God's grace is enough! Praise His Name!