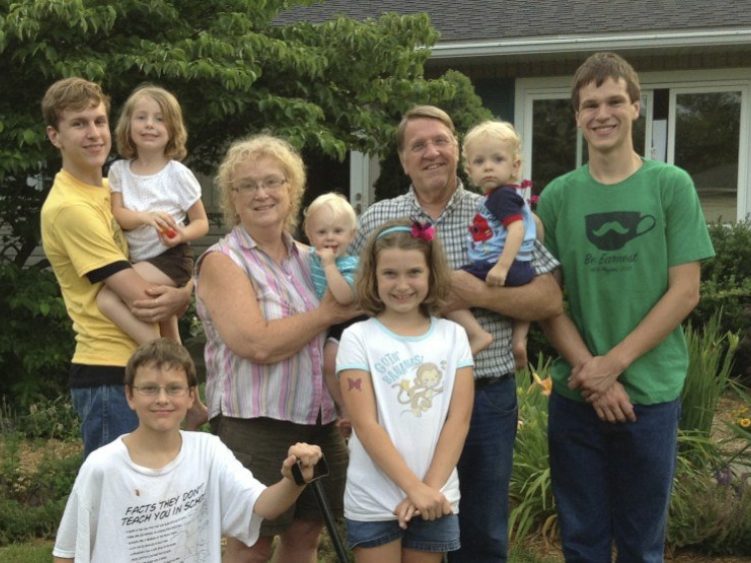 Wyoming is in Michigan?
Jul 15, 2013 by Bonnie
Yes, we're in Wyoming, and we're also in Michigan. Dave and Amy's new house is in Wyoming, Michigan.
Visiting David's and Laura's families in the Grand Rapids suburbs of Wyoming and Jenison has been a very special time for us. David and Laura are married to cousins Amy Tromp and Aaron See, which means that David's and Laura's children are both first and second cousins! We are very happy that our grandchildren are able to live close to their cousins, as well as having both the Tromp and See grandparents nearby.
Laura's family was with us in Georgia for Thanksgiving, so we were blessed to celebrate Laura's son Ethan's first birthday with him there (It was ON Thanksgiving last year!), and this year we were able to spend David's son Joshua's first birthday with him here! Dave and Amy have a house now, and we've been sleeping in their nice cool downstairs bedrooms, which is a treat! For the first couple of days we were here, Bryan's family was also with us, and they enjoyed the birthday party too. It was fun to have some time with seven of our eleven grandchildren all together.

We've also attended one of Emma's softball games, visited the Grand Rapids Public Museum with Laura and her children, and enjoyed the John Ball Zoo with both Laura's and David's families. And of course going to church with our family is always a highlight, as we have enjoyed excellent teaching and fellowship.
Grand Rapids is a delightful city to visit. In addition to the places we visited this trip, the city is home to Frederick Meijer Gardens, Gerald R. Ford Presidential Museum, Blandford Nature Center, Roger Chaffee Planetarium, and other places of interest. Grand Rapids is also home to the world-famous ArtPrize Exhibition and competition each fall. During this event, works of art are installed all over town, and even in the Grand River! Several are permanently installed in different parts the city. We will miss this year's event (Sept. 18—Oct. 6), but hope to be back in town to see it next year.